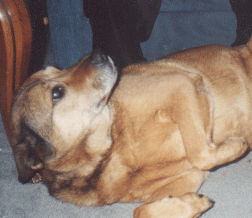 Bears Story
Bear had it rough from the start. When Bear was born she had fluid stuck in her throat and she was not breathing. My mother was at work and my little brother Gary and myself were watching Bears momma give birth to her litter of pups. My little brother and I watched as she gave birth to a small runted pup with no tail. The pup wasn't breathing and we called our mom. The pup was struggling for breath and we didn't know what could be wrong. But my little brother who had small skinny fingers opened the pups mouth and dug out the fluid from the pups throat. Soon she was coughing and was whimpering away. Bear was born.
Sibling rivalry was not wasted on Bear as her nasty black spotted sister Bootsy and her quarled and we had to give bootsy away.
Bear's momma ran away and we gave away her sisters and brothers. Bear soon became one of the best dogs we could've ever hoped for. She's been a part of our family for so long she's just as much a member as anyone.
Bear we love you.