Favorites

Favorite T.V. Shows:
X-FILES (FOX)
FarScape (scifi channel)
StarTrek Voyager (Sad Days Voyager has aired its last show. Goodbye Voyager... May you go down in history as one of the best Startrek series ever!)

Favorite Authors:
Arthor C. Clarke
Isaac Asimov
Ray Bradberry
Debrah Chester
J.R.R Tolkien
Margaret Weis
Tracy Hickman
R.A. Salvator
Anne Rice
Clive Barker

Favorite Movies:
BraveHeart
Matrix
Saving Private Ryan
Clerks, Mall Rats, Chasing Amy, and Dogma
Alien, Aliens, Alien 3, Alien Resurection
Predator 1 and 2
Terminator and T2
The Time Machine
Heat
True Romance
Pulp Fiction
Resevoir Dogs
Killing Zoe
Traffic
Starwars Trilology
Phantom Menace
SuperNova
DUNE
The Princess Bride
Labrynth
Legend
The Dark Crystal
Akira (anime)
Lensman (anime)
Ninja Scroll (manga)
There is a ton more but I can't list em all


Here's a list of some of my favorite music:

Classic Rock:
Pink Floyd (#1) all Pink Floyd!
Led Zepplin
The Doors
The Beatles
Credence Clearwater
Electric Light Orchastra
Moody Blues
Jimmy Hendrix
Jefferson Airplane
Simon and Garfunkle
Crosby Stills Nash and Young
Rush

Modern:
Tool #1
Kid Rock
Stained
Eminem
Limp Bizkit
EverClear
Korn
Alice in Chains
Radio Head
Nirvana
Marilyn Manson
NIN
Foo Fighters
FatBoy Slim
Daft Punk
Blink 182
Moby

My older brother (Jeff) MALESTROM and I are both regulars on mIRC.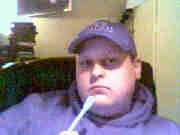 Lycos Talk Radio Show
TJ apone0 come on and listen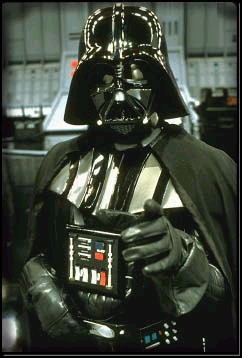 Darth Vadar

If you only knew the power of the darkside.
PROOF that good guys still wear black! Oh you thought Old Darth was such a bad guy right? Okay so he killed OB1 Kanobi... So he may have blown up a few planets and systematically wiped out entire races of beings, made deals with evil mobsters and criminals, tortoured the princess, and Han Solo... But hey that wasn't his fault! Peir pressures a bitch. Specially when the dude pushin it on ya is the Emperor of an Entire Galaxy for goodness sakes! I mean how many times can you hear ( IF YOU ONLY KNEW THE POWER OF THE DARKSIDE!) before you just have to give it a chance? YOU know what I mean?
In the end Darth Vadar is the only one that truly defeats the darkside by showing the love he still holds within his cold mechanical body for his only son Luke.
What a cool scene in Return of the Jedi when he tosses old Palpatine down that huge shaft that leads right into the heart of the Death Star II! Awesome.
I give Darth a TEN on the KICKASSOMETER!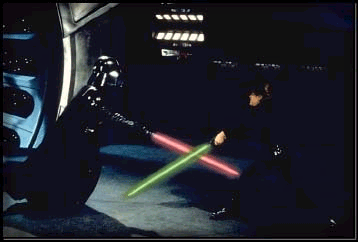 Click on the fighter battle scene above to check
for information on upcoming news, gossip and events surrounding Star Wars Episode II Attack of the Clones try...

Legal Content!
Everything on this page that has to do with Star Wars is either © Lucasfilm, or the original artist or author. That includes all pictures, and stories. This site is for entertainment, purposes only!
Thank you.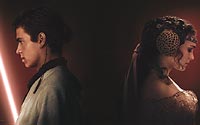 The plot of Episode II is a secret. Not a well kept one, but still a secret. If you're avoiding spoilers, here's the most you probably want to know:

It takes place around 10 years after Episode I.

Anakin and Padme begin to develop their relationship.

We discover more about Padme's family and background.

Anakin returns to Tatooine and meets up with Shmi, Watto, Owen Lars, and Beru Lars.

We learn the origin of Boba Fett and Stormtroopers.

Episode II reveals information about the Clone Wars mentioned in A New Hope.

The film is darker than Episode I and is closer to The Empire Strikes Back.

Padme and Anakin go off on one adventure while Obi-Wan takes a separate adventure. They all cross paths again in the end.

Expect return appearances by Yoda, Mace Windu, Ki-Adi Mundi, Mas Amedda, Jar Jar (briefly), R2-D2, C-3PO, and, of course, Palpatine.

Expect several new bad guys and bounty hunters in this film.

We return to Coruscant, Naboo, and Tatooine. Expect two new planets.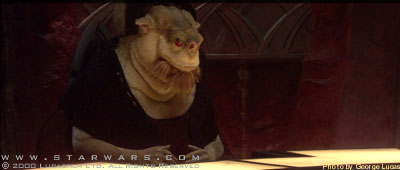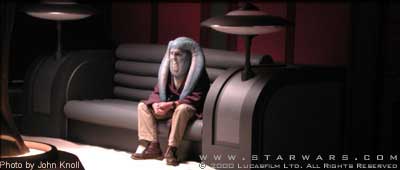 Hidee-Ho-There neighbor!... Ah yeah right who'm I kiddin? You don't know me and I don't know you and that's why your here right? To learn about who I am... At least that's the reason I made this site.
okay well maybe some of you know me... and then again maybe you don't!
Lets start off with the basics:
My name is Sean Jankowski
My age: I'm 26 years old
I live in Southern California about 30 miles north of Las Angeles in the suburbs. The town I live in is a desert waste land of housing tracks and yuppies known as Canyon Country. Its hot here all the time and the hills are like tinder boxes ready to flame up at any minute.
I'm not employed right now by choice. I've had some health issues lately. I bleed from my intestines and I have bad diabetes that I needed to get under control.
I go to school at the local community college. The school is called C.O.C. or College of the Canyons. I'm taking a 3D animation course right now called 3D Studio Max 4.2. I want to take traditional animation and Maya next semister.
I love to draw and write science fiction, fantasy and horror stories for fun. I like to study the paranormal and I also like astronomy. I'm into computers and computer art so if you are an computer digital artist let me know! I'd love to talk to you.
My favorite band is Pink Floyd. My favorite modern bands are TOOL and Radio Head.
I am not a fruit. I love pussy so no gay guys messaging me okay!
If you want to talk to me about stuff I like I don't care if your gay go ahead and message me!
My best friend is Dave. He's helped me out with a lot of shit. He convinced me to go back to school. He's helped me in times when I had no money and he's been there to be a sounding post for everytime I get pissed off or sad and thats like all the time. He's my best fucking friend in the world.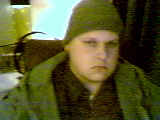 Come with me on a Ghost Hunt!
Under the stars in a cemetary we can try and gather data of the after life... Learn more at the link below!... apone0.tripod.com/aponesparanormalpage/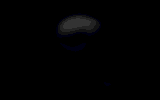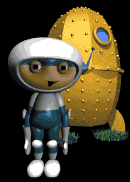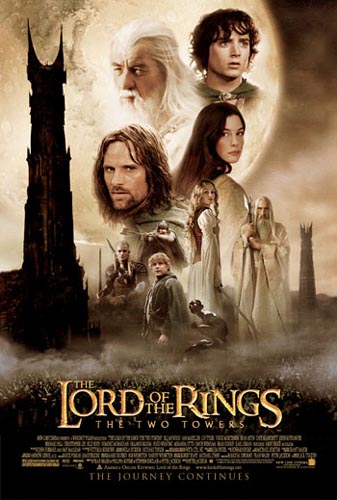 Ahhh here we go again! Time for the second installment of LOTR The Two Towers! Here's a synopsis and some stills from the movie!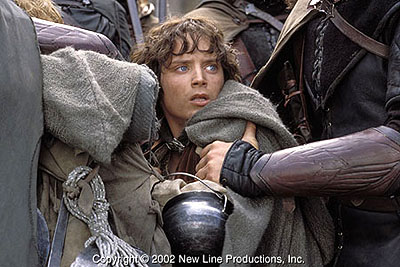 Frodo Baggins finds himself and Samwise wondering the dark wastes of Morodor as they trek across the war riddin plains of middle earth in search of Mount Doom where they plan to destroy the one ring. Followed closely by the creature Gollemn they soon find themselves confronted by the creature so drawn to the power of the ring.
Gollemn understanding Frodos fragile state being under the power of the ring begins to sway under Gollemns kind words and builds a repoure with the sickening creature. Sam who doesn't trust Gollemn tries to keep Frodo from falling to the power of the dark lord.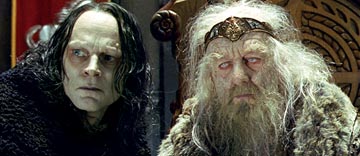 Sarumans spy and wicked turn coat Wormtongue plots with the forces of darkness to help Sarumans armies invade the white city.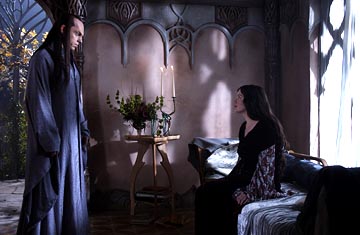 Elrond meets with his daughter Aeriwin to try and convince her to travel east with the elves to escape the coming storm of evil... She is drawn to stay for the love of Strider and refuses her fathers request.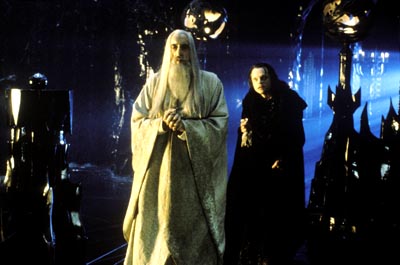 Saruman and WormTongue plot against the forces of good and roust their armies to take siege the White City of Rohand.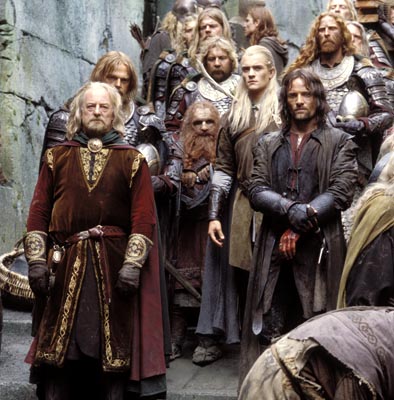 The armies of the white city lead by Theodin and Aragorn stand in the tower ready to face off against the dark forces of the Sauron. All seems lost as the battlements of the enemy are far greater then any the humans have to defend against them with.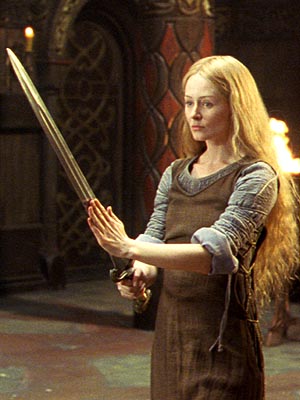 Aweowin Lord Theodins daughter stands with a sword in hand planning to ride into battle with the men of the armie. She lies to her father and dresses as a man and rides hither to help fight against the evil enslaught. She defeats the nasgul for no mortal man is able to do so... but a woman can.

I know I gotta make a StarWars Fan page but I just haven't gotten around to it... With all the stuff at the bottom of this page you'd never know it though! Heh. But anyways enjoy the starwars stuff on here for now until then c-Ya!

This part of my About me page is all about movies music and stuff I like. Right now I have a Star Wars tribute going on... You can email questions about Star Wars and if you are looking for updates about the up coming star wars films there are regular updates at the bottom of the page... Peace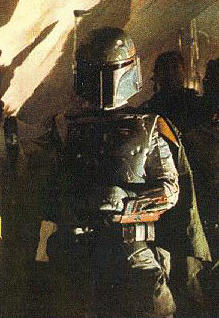 Boba Fett

Everyone dies,
It's the finale and only lasting justice. Evil exists; it's intelligence in the service of entropy. When the side of a mountian slides down to kill a village, this is not evil for evil requires intent. Should a sentient being cause that landslide there is evil and evil requires justice as a consequence, so that civilization can exist.
There is no greater good then justice; and only if law serves justice is it good law. It is said correctly that law exists not for the just but for the unjust for the just carry the law in their hearts and do not need to call it from afar.
I bow to no one and I give service only for cause.
Yeah I'm a pretty big Star Wars Fan. My favorite Star Wars character is Boba Fett.
Boba Fett Former Journeyman Protector (Space Cop) exiled from the world of Concord Dawn to become the best bounty hunter in the galaxy. He's the boyhood friend (Jaster Mereel) of Anikan Skywarker (Darth Vadar). The two served as slaves in their youths on the planet Tatooine before Anikan was recruited to start training as a Jedi Knight under OB1 and Quin Gon Gin... Later on in his life Jester went to the planet Concord Dawn and was recruited to become a Journeyman Protector. His rank was stripped from him after he killed another protector that was evil. Boba Fett was exiled from Concord Dawn and he joined the Empire to become a storm trooper. He soon found that he no longer wanted to work under the Empire and chose the life of a Bounty Hunter.
Boba Fett wears the armor of the Mandalorians. The Mandalorians are an ancient race of warriors once hired by the Evil Empire to hunt down the Jedi Knights and destroy their order. Boba Fett took the armor of a slain Mandalorian and today uses it in his bounty hunting.
Well as is George Lucas he went and changed the story on us using Jango Fett and the Cloning of himself to explain the way Boba Fett came into being. He went to the clone world and in the service of the republic gave them his genetic DNA so that they could create a master race of clones to restore the republic and bring down the failing Trade Federation. All Jango Fett wanted in return was an unaltered genetic clone of himself he named Boba Fett. Jango Fett is killed in a battle at the end of the film.
I myself still like the old fandom version of Boba Fett's story. It sits better with me but heck Star Wars is Lucas's baby and he can do what he wants with it!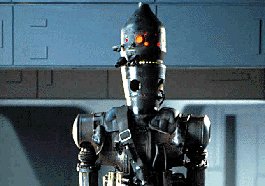 IG-88
I think, therefore I am
I destroy, therefore I endure
Ahh yes my second favorite character and one of the least known in the Star Wars Saga...
IG88 is an assasin droid developed by Holowan Laboratories under the orders of Imperial Supervisor Gurdun. As soon as IG-88 was activated, Its sentience programing took over and soon it was self aware. Seeing that its creators were not as efficient as itself it saw no reason to follow their orders. The Holowan Robotic Scientists tried to stop the IG88 model as its sentience programing took over but were unsuccessful. Now possing a threat to its existance it viewed its new creators as a threat to its survival and its assassin programing took over. At one point IG88 did show concern when Chief Technitian Loruss The droids designer took aim with a blaster at its key components to deactivate the droid but she was killed by IG88. IG88 activated its other four prototype models and uploaded his sentience programing into them creating copies of himself... It then designated them IG88's B,C, and D. And then designated itself IG88-A All the Holowan Lab employees and scientists were killed as the IG88 models escaped with the help of IG72 another assasin droid that IG88 activated but did not download its sentience programing into. The IG88 droids fled the planet of their creators and headed for Mechis III an automated droid production world.
The four renegade droids overrode the planetary defense system, while IG88D downloaded full details of the planet, and IG88A transmitted their sentience programing into the main hubs of the planet operations, taking over the planets vast electronic complexes. The four droids then sent a signal to all the droids on the planet, making them rise up against the few humans that lived on the planet including the planets administrator Hekis Durrumm Perdo Kolokk Baldikarr Thun. He was killed by his own administrative droid ThreeDee Four-X. Soon the IGs had eradicated all human life on the planet, and had gained control of all manufacturing and the droids. The four assassin droids made sure every thing would run exactly the same, not changing the outward appearance at all. From Mechis III IG88 would launch its plans to try and take over the galaxy on a genocidal rampage killing off all biological life.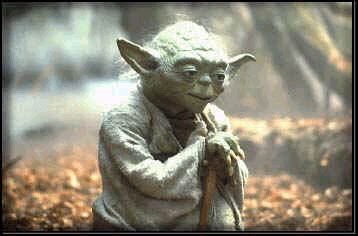 Yoda
There is no try, Only Do or Do not.
He's Little He's Green and He packs more power in his little pinky then LUKE DARTH or OB1 could ever imagine! Thats right! Yoda! The little master of Zen that resides in the swampy world of Dagobah next to a cave where a Dark Jedi once died. (The Cave in Empire Strikes Back) where Luke faces his darkside.
Master Yoda a small Gherkin being. He was over 900 old years before he finally died telling Luke about his fathers dark secrete and his sisters existance.

In Episode 1 (Phantom Menace)... Yoda sits at the head of the Jedi Council with Mace Windu at his side as second in command. Thus Yoda was the most powerful Jedi on the council when Quin Guan Gin and OB1-Kanobi brought young Anikan Skywalker before the council.
Yoda sensed fear in the young boy and sad feelings and thoughts that focused on his mother. Yoda could see that the future of young Anikan was not clear and seemed to be clouded by the dark side of the force.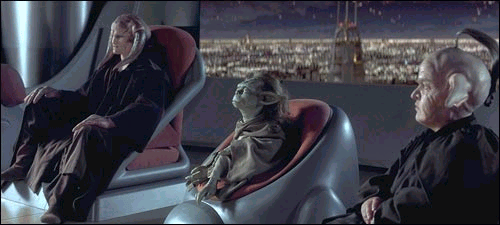 Episode II Attack of the Clones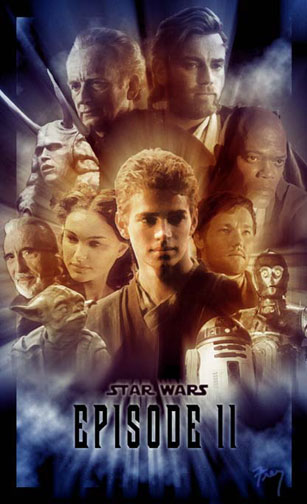 StarWars Episode II Attack of the Clones

Anakin (Christensen) has progressed into the accomplished Jedi apprentice of Obi-Wan (McGregor), who himself has changed from student to teacher. The two Jedi are ordered to protect Padm (Portman) whose life is endangered by a faction of political separatists. As relationships form and powerful forces collide, these heroes encounter decisions that will impact not only their own fates, but the destiny of the Republic.
In the film Anakin faces his decision from when he was a little boy to leave his mother behind. He senses she's in danger and desires to return home to find her. The Republic in the mean time has learned that a faction of unknown plotters has set in motion a plan to kill Queen Amadala Padm. The Republic recruits the help of the Jedi Council who recruit OB1 and Anakin to watch over the Queen for the time being.
While in her care another assination attempt is made on the Queens life. OB-1 decides to follow the clues of her assination attempt and finds out a much larger and more sinister plan is unfolding in the galaxy as he goes to Yoda for advice. He travels to the clone world of Genotia and finds out a Bounty Hunter named Jango Fett has sold his DNA to the cloners for a clone boy of his own. The cloners tell OB-1 that the new army will be ready on time... OB-1 then follows Jango Fett to the droid production world of the Federation.
Mean while Anakin and Padm have a blooming romance. But Anikans thoughts still linger on his mother and he can't wait any longer. They go to the Dune world of his childhood to find his mother. There they find his old slave owner Wato and find out where his mother lives... but it is to late. She has been kidnapped by Sandpeople and is killed. This unleashes the first views we have of Anakins dark side. He goes on a killing spree killing all the Sandpeople in a village.
All in all I really liked it!

Starring Natalie Portman, Ewan McGregor, Samuel L. Jackson, Hayden Christensen, Pernilla August, Kenny Baker, Anthony Daniels, Ahmed Best, Frank Oz, Jimmy Smits, Christopher Lee, Ayesha Dharker, Joel Edgerton, Temuera Morrison
Directed by George Lucas
Written by George Lucas, Jonathan Hales
Studio 20th Century Fox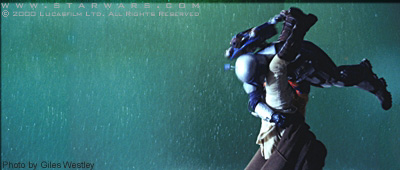 Here OB-1 is attacking Jango Fett in Attack of the Clones